Marketing strategy! The word from which everyone is familiar but doesn't know its importance in today's unpredictable market.
An expert marketer puts stress on these words so that everyone knows the importance of marketing strategy: "Those brands who cannot build an emotional connection with the customers and do not make the strategy properly will be defeated in the market sooner or later."
It is not only the big brands that are making marketing strategies but also important for the startups and medium-sized enterprises.
Well, in this blog, we explain the importance of marketing strategy in today's competitive market.
Look at the value of strategies that help in growing business!
Let's go!
What do you understand about marketing strategy?
" Marketing strategy includes the complete business blueprint that helps businesses in making the connection with prospective consumers and convert them into the buyers of their product."
A marketing strategy includes-
The estimated value of a company
The exact brand message
Maintain the data of target niche
Other necessary details
Reasons why marketing strategy matters a lot for every business
Marketing strategy is the roadmap for every business to get to their potential customers.
Here you will know the importance of marketing strategy for every business-
1 Make clear goals
Every excellent marketing strategy starts with the aim of making improvements in the business. For this, you have to make clear goals. While making goals, firstly, understand the main theme of your business and try to make your imagination into reality. It is the point where marketing strategy comes into the picture.
Make your goals by using SMART strategy-
It is an excellent way to set realistic goals.
Setting goals means making efforts to complete goals and holding yourself responsible for the improvement. It is the only method to improve.
2 Know your target audience
After deciding on goals, you must now know about your target audience. In this case, a marketing strategy helps you to know about your target audience. After knowing it, you can take care of their needs, wants, desires, fears and tell them how your product helps them solve their specific problem.
"Marketing strategy helps you know who exactly needs your product."
3 Manage your work process
Suppose you have an amazing idea for your marketing campaign. Then these points all knocked out in your mind-
How is it going to look?
What's it going to feel like?
How will it encourage the customer to buy your product?
That's great if you think about all these questions but don't forget- how will all this get done? For your understanding, organize every task properly.
Organizing tasks means managing things like content marketing, email campaigns, and social media marketing. When you start organizing your strategy, ensure that you will not miss any opportunity to convert people into your potential customer.
Managing your marketing strategy makes it convenient to know where you can convert a lead into your potential customer through various tactics such as forms and CTAs.
4 Teamwork plays an important role
Marketing is not a one-person army, but it requires team efforts to improve the results. For this, communication is the key. You can share your marketing strategy with people like marketing agencies, colleagues, contractors, salespersons, etc., with the help of this; they know exactly what you are doing and what they have to do. It helps you in doing the work collectively and achieving your goals. Teamwork plays an important role in the importance of marketing strategy.
5 Allocate resources properly
The worst thing in managing the business is the improper allocation of resources. With the help of the marketing strategy, you can allocate resources appropriately. As a result, it will help in the best use of the resources.
For example, the documents of duties help engage the person in work and know for which activity they are responsible.
The above Five reasons help you know the importance of marketing strategy nowadays to succeed in this competitive market.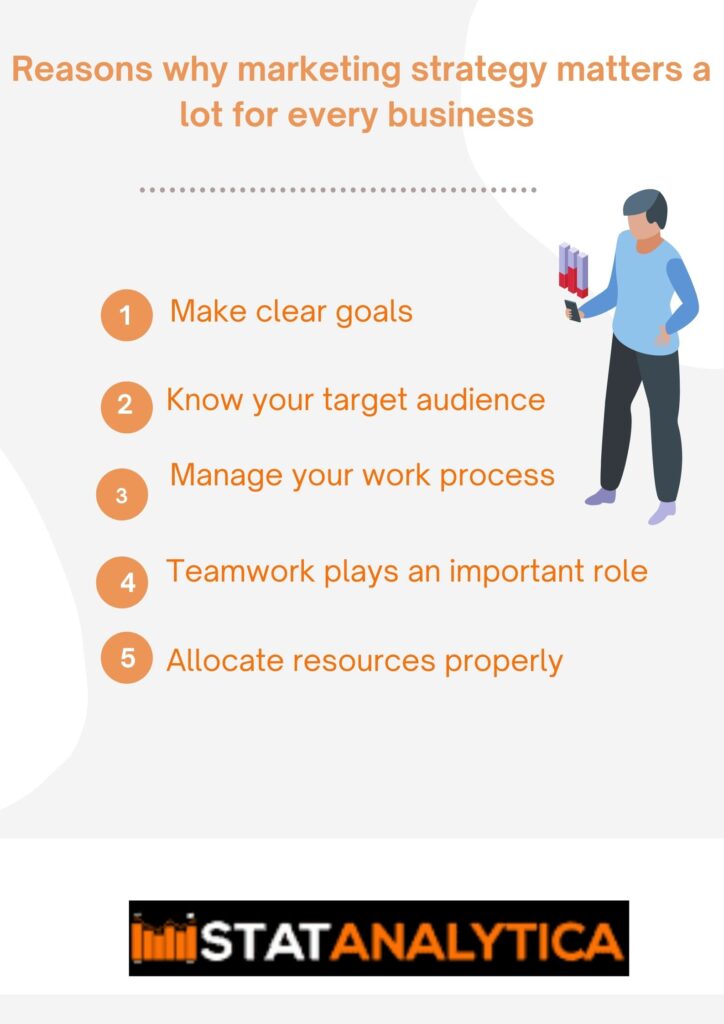 ---
Additional point- Case Study
Let's understand the importance of marketing strategy with the help of a case study-
" Role of social media and SEO in today's marketing strategy "
In today's world, everything is going digital. It is the same in the case of business. Every business wants its presence on online platforms to increase its business.
Moreover, everyone uses social media platforms, so it becomes necessary for the business to make its presence on these platforms
to increase its awareness.
SEO (search engine optimization) and SMM (social media marketing) play an important role in marketing strategy.
Now, the question arises in your mind,
How do SEO and SMM work in increasing awareness?
Here is your answer!
1 First of all, you have to make successful campaigns for your business and work accordingly.
2 Everyone loves attractive and entertaining content, so make advertisements according to your business interest but in an engaging way. You can use it on social media networks as promotional content, and in SEM (search engine marketing), you can use it through paid means.
3 If you want traffic on your site organically, then SEO techniques will help you achieve this. Take the help of the tools available for SEO work like Grammarly for content writing, Semrush for site analysis, etc.
If you use your cards appropriately, you will get the best result from both platforms. Expand your thinking and visibility, and increase your online presence, resulting in increasing client reach, thus giving you greater ROI.
Online presence= Greater client reach= Higher ROI
---
What are the benefits of making a marketing strategy?
You can take a sigh of relief when you know you have a marketing strategy that includes the day-to-day actions, and you inform it to your team so that they can work to accomplish company goals in a team.
1 Helps in the simplicity of work
The marketing strategy clarifies the day-to-day tasks. When your tasks are clearly defined, then your pace of work increases. Moreover, make sure you give access to your employees all the tools so that they can use them according to the strategy.
2 Helpful in growth
Adjusting the marketing strategy as per your company objectives assures that your efforts will contribute to your overall business growth. Your strategy will help your team know where to spend and where to focus on getting the greatest ROI.
3 Increase focus on the important works
The clear and informed strategies help you avoid distractions and unnecessary work like wasting time deciding which tactics we have to use or not every time. Abiding by the strategies makes sure that your team stays concentrated on the company's goals, values, and vision.
4 Helps in influencing
When you have done proper research of the market and existing clients, you can increase your efforts by attracting more people to your product. Make it easy for people to make their decision through your message.
Make sure your message is delivered to the right people at the right time!
These are the benefits that the importance of marketing strategy is increasing.
Bonus point

The 5 hacks that you can use in your marketing strategy–

These are the latest tactics that every business are including in their marketing strategy-

Content marketing
Video marketing
Social media marketing
Search engine marketing
Remarketing
Also, Read!!
Wrapping up-
I hope now you understand the importance of marketing strategy from the above discussion. Yes! If you want your business to be successful, you have to make the strategies as per your goal.
So, stand out from the competitors by following the marketing strategies properly. Make your brand authentic and rule the market with the help of your tactics. Many students face problems in completing marketing assignments because they don't know about them exactly. You can take marketing management assignment help from us and submit it on time.
BE YOU! BE AUTHENTIC!