IT Management Assignment Help
Writing a management assignment is always a tough task for the students to complete. IT management tasks used to be very complicated, and you require to be very careful when writing IT management assignments. Day after day, the demand for IT management assignment help service is growing because of its complexity. With many qualified experts in IT management assignments, we are all committed to helping you in every manner possible.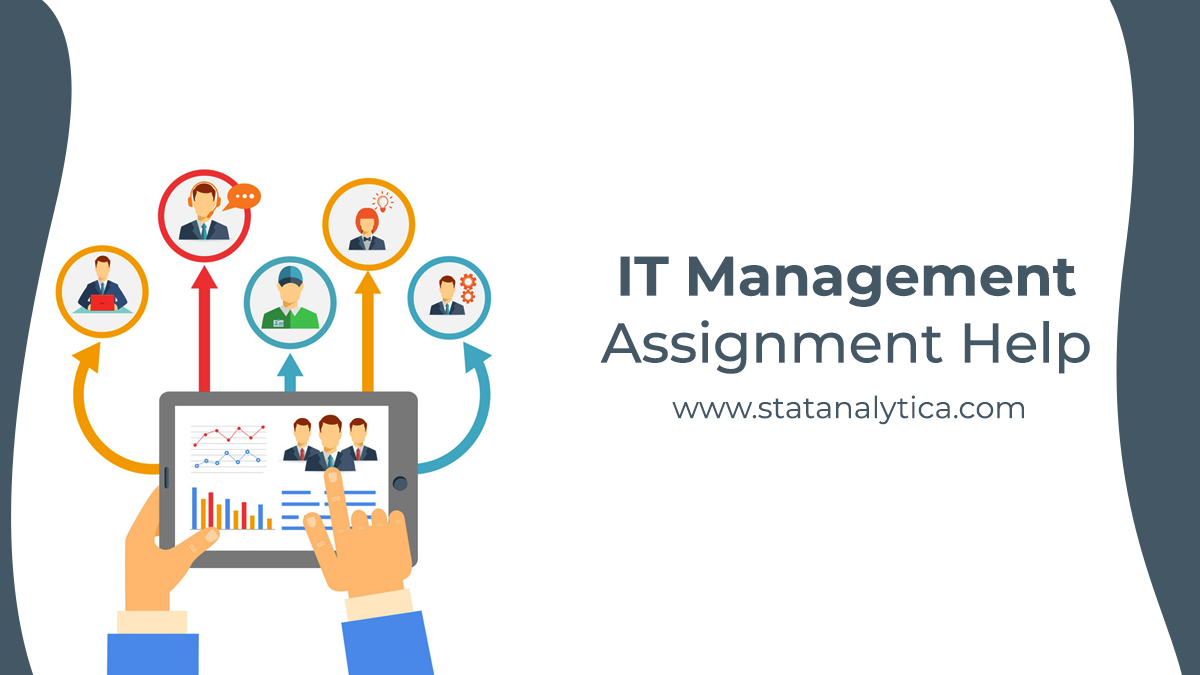 So if you're a student and searching for the assignment help to manage your project, you're at the correct place. We give genuine content quality and reduce each student's academic stress associated with the assignments. We have experts from the various educational disciplines who can assist you obtain good academic grades effectively.
What is IT management and its disciplines?
IT management is the method used to manage the whole activities that are correlated with information technology within an industry. IT management consists of six major disciplines:
IT governance
IT governance is the subpart of corporate governance. This deals with information technology activities. IT governance always checks the solutions for risk management and the performance of Information Technology in risky situations.
Business-IT alignment
Information technology and business both are useful to achieve the goal of the business. The result of both is used to analyze market competition and how financial growth is possible in the same market. Harmony of business and IT plays an important role for business decision-makers and IT managers over the same board.
IT financial management
This deals with the management of IT services financially. It consists of three different subprocesses: IT accounting, budgeting, and charging.
Sourcing: Distribution management
This basically deals with the distribution and procurement of all the IT-related parts, material, supplies, and equipment required within an organization.
IT service management
This part of IT management is responsible for customer-related services, such as company delivery, planning, and IT services control.
IT configuration management
It is one of the engineering processes within IT management utilized to manage and create various IT products within an organization.
Why there is a requirement of IT management
Nearly all businesses worldwide use IT in some way or the other. The entire IT process functions very complicatedly in a big organization. The complicated IT infrastructure needs to be managed by staff with appropriate experience and knowledge in this area. Consequently, the value and applicability of IT management have been steadily increasing.
Undergraduate and postgraduate IT management courses are widely known among students in computer science. A properly organized IT management assures that all the basic technology resources available to a company are used carefully. That responsibility is given to the employees who are linked to that service. After completing a degree in the IT department, there are various career options, such as Software application developers, Computer systems analyst, network systems administration, and much more. You can now see that there are different options to pursue your career in the IT department because of the high demand of IT professionals in different areas of industries.
Solutions: How can we provide help with IT management assignments?
Students require help with IT management assignments. These are the following points for how our experts help you with your IT management assignments:
Provide well structured IT management assignments: It is a difficult task when you begin studying different IT structures needed for finance and governance. You can, however, reduce your tension by availing our IT management assignment help.
Give detailed conceptual IT management assignments: An IT executive plays an important role as he/she has to manage the work as an administrator, strategist, operator, engineer, and problem-solver. They require to be thoroughly qualified with scientific principles and practical consequences, with a lot of responsibilities.
Cover all related topics in IT assignments: Students who pursue IT management are required to strengthen their budgeting, finance, and marketing capabilities. Hence we give our IT management assignment support in all forms of the field that deal with this region.
Write assignments as per the given instructions: A student faces problems in meeting tight deadlines, writing the ideas, and putting these ideas into practice, aside from the specific issues related to the subject. They also discover it challenging to use the perspective style of writing and to give proper references. Our writing services for IT management assignments are precisely the kind of service you might need to clear your doubts.
Topics included by our IT management assignment help experts
We provide the best services to student-related queries when asking questions such as "Who will help out in my IT Management assignment?" The topics explained by our experts are mentioned below:
Business-It framework
IT governance
IT financial management
IT service management
IT configuration management
This does not end here; students can know about their IT management topic from our customer support executives. Our help services are accessible 24*7 so that we can answer your queries instantly.
Difficulties faced by student while writing IT management assignment
Here are a few reasons why students need It management assignment help services:
Not have sufficient knowledge of the subject
In this IT field, many relative subjects are needed to create the assignment writing tasks within a few minutes. Various students have only had restrained information about those subjects. They do not have an idea about how to use them; therefore, they look for IT management assignment support.
Time Management
The teachers allocate students many IT assignments and assign them a restricted time to finish them and submit them within the due date. Sometimes, these assignments writing becomes difficult for students to finish before the deadlines, so they try to get excellent IT management assignment help.
Lack of research capability
Lack of ability to research data about the IT topics is why the student fails to write an awesome assignment. Writing experts help you in searching for relevant information.
Lack of interest
Information technology (IT), although a very interesting topic, can also be boring at times, and hence, the students might feel incapable of doing the IT management assignments.
Why do students choose our It management assignment help services?
On-time delivery
Our experts are working day and night to complete your IT management assignments orders. We know that students require their assignments before the deadlines, so we always provide assignments before the deadlines.
Qualified experts
We have a team of experts, and each of them is well qualified. They are working for the last several years in the same field.
High-quality assignment
Our first preference is to offer our clients the best quality assignments and homework. While dealing with us, don't need to worry about the quality of your assignment.
100% satisfaction guarantee
We always provide our customers with 100% satisfaction. We promise you that we always provide you the best services.
Error-free assignments
Plagiarism is banned in our services. We don't support any plagiarism. We provide you complete plag-free IT management assignments.
24*7 services
We are working on different shifts, day and night. Feel free to contact us anytime, as our experts are available to provide IT management assignment help 24*7.
Reasonable prices
We are offering you the best It assignment help services at affordable prices. We know the situation of students; they get little money, and they have to manage all their educational expenses with that bit of money. So we designed our services so cheap that anyone can use it.
Our IT Management Assignment Sample
We are one of the trusted and genuine IT management assignment help providers. This is not just a statement; we have earned this reputation because of our excellent team of experts who are accessible 24*7. Our team of experts is rated with an average of a 4.5-star rating, and you can verify it by visiting our website and checking the reviews given by our clients. One can see what kind of assignments we deliver to our clients by checking the below-mentioned sample. Check this sample, analyze it thoroughly. After analyzing, we can guarantee you that you will ready to avail of our IT management assignment help.
FAQs Related To IT Management Assignment
Yes, you can. We have a live chat option on our official website. You can contact us and get in touch with our support team who are available 24*7.
No, we do not charge any additional cost for your plagiarism-free report. It is absolutely free and delivers it with each assignment.
Yes, we do, but it is available seasonally as well as occasionally. So you have to confirm it with our support team to get any discount.