When it comes to start writing a research paper, it is very common that students search for research paper help. The reason behind it is that most of the students find it challenging. So in this blog, you will get to know a complete overview that will assist you in writing a research paper template effortlessly.
A research paper is a document that combines the research questions, thesis. The research paper also includes technique outcomes evaluation in a single document. Students who write a successful and effective research paper must ensure that all the elements are present in the document. They must have reliable sources, which may include resources such as books and other types of publications. Whether you're writing a scientific paper or something more general, the form of your outline must be identical.
Let's start with what we include when we begin writing a research paper.
What is a Research paper?
We can define a research paper as a piece of paper for academics that incorporates original research on a particular topic. A research paper might be anything from a high school term assignment to a master's thesis or Ph.D. dissertation.
What is a Research paper template?
The Research Paper template outlines the overall structure of a formal project or thesis. When the study is published as an academic journal article, many of the aspects are included.
How to Create a Research Paper Outline
An outline's main components are as follows:
You have to keep in mind that each section has a specific purpose. How you arrange information in your outline will influence how your paper reads once completed. Let's brief all three main outlines.
The introduction
It is one of the most crucial parts of any outstanding research paper template. It's fascinating to note that it's generally written last. The main aim of the introduction is to attract the reader's attention by presenting the reader with the topic. Always use the thesis statement as an opportunity to "catch" the reader's attention.
The Body
It is always considered an essential part of the essay. It contains many fact-filled paragraphs or subsections. You expand your thesis statement by offering data to back up your argument. This section should expand on your introductory information. It provides insight into the methods employed to do your study. Also, includes investigative points or solutions to issues considered.
It would be best if you also thought about using a literature review. This is accomplished by noting the literary sources employed to support your arguments. You have to choose the related topic of your paper and the literature.
If you apply data validation, this will usually come after the approach and literature sections. You will emphasize your findings and discuss other variables that you discovered during your investigation. You can use graphs or tables, but make sure you explain them to your audience.
Take a look at the Rule of Three. Try to find supporting arguments for each point you make. Provide a necessary point first, then an even stronger one, and finally your strongest one.
Conclusion for your Research paper template.
It's now time to wrap up your research paper. The thesis statement is usually confirmed at the end of a research report. Restate your thesis. Summarize what you've said in a few sentences. Spend a few moments explaining why you believe those points support your case. Finally, you'll write your conclusion.
If your study is uncertain, take the time to explain why you believe this topic warrants further investigation. The conclusion does not usually include new material but rather summarises the essential issues discussed in the study. It is also required to restate the thesis statement and mention any future research.
Some tips for writing a research paper outline
You have to be consistent: State the topic properly and always try to use short sentences.
Organize all the information related to your research paper.
Develop Support: Each core idea should be followed by two or more supporting ideas. If your research lacks sufficient facts to support the major argument you are expressing, you should conduct extra research or alter the plan.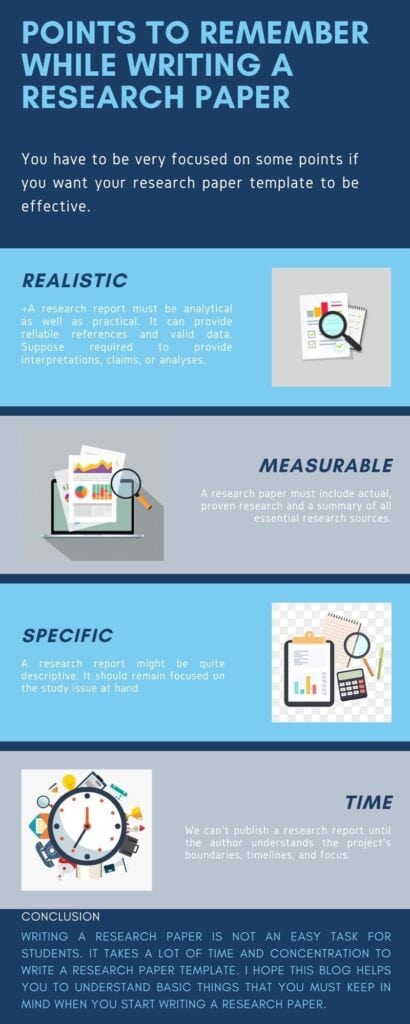 Points to remember while writing a research paper-
You have to be very focused on some points if you want your research paper template to be effective.
Realistic
A research report must be analytical as well as practical. It can provide reliable references and valid data. Suppose required to provide interpretations, claims, or analyses.
Measurable
A research paper must include actual, proven research and a summary of all essential research sources.
Specific
A research report might be quite descriptive. It should remain focused on the study issue at hand. It addresses a particular research question rather than being contradictory or aimless. Imparting knowledge or making assertions about extraneous topics or issues.
Time
We can't publish a research report until the author understands the project's boundaries, timelines, and focus. Suppose the writer/researcher does not identify the nature and flaws of the research report. In that case, the thesis argument maybe Slow Down by an inability to address the supplied study.
Attainable
A research paper requires a research statement that responds to the research question. It also adds to the collection of information on the subject.
Important Takeaways
Working ahead of time and ensuring that sources are cited the first time are two ways writers. It might save time during the editing stage of producing a research paper.
In-text citations in APA papers typically include the author(s)' name(s) and the year of publication.
APA papers typically include an abstract that provides a concise summary of the paper.
In-text citations correlate to references section entries. It includes complete bibliographical information about a source.
Following appropriate references and style rules helps writers ensure that their work. Give due credit to other authors for their work, and that readers receive relevant information.
Conclusion
Writing a research paper is not an easy task for students. It takes a lot of time and concentration to write a research paper template. I hope this blog helps you to understand basic things that you must keep in mind when you start writing a research paper.
FAQ
When should I make a paper outline?
Before you begin writing your research paper, you should create an outline. This will assist you in organizing the essential ideas and arguments you wish to provide in your topic.
What makes good research?
Good research is done when content related to the research topic, design, and methodology used in your research should be clear. Readers should understand all the key points that are mentioned in the article easily.