Excel is one of the most popular Microsoft tools that is used for data analytics on various computers and mobile operating systems. Excel is used to perform a wide range of calculations, create different graphs, and develop data tables.
Some people think that Excel is just a software for accountants. However, it can be fun, easy, and educational for you at the same time. Educators and parents can use Excel as a tool to teach everything from history to maths. The main aim of this blog is to give you some ideas about Excel projects that are fun and easy.
In this blog, you get to know about some of the Excel Project Ideas, from beginner level to advanced level.
Are you ready to see those fun Excel project ideas?
Let's dive deep into it!
What are the benefits of Excel? Why should you learn it in 2022?
As the number one spreadsheet application globally, Excel has a lot of benefits for anyone who knows how to use it properly. Below are some of the benefits of Excel that you should know before 2023.
Easy data visualization with charts.
You can print reports easily.
So many free templates to use.
You can work with Excel online or on a mobile app.
You can perform calculations.
All the tools for data analysis.
Best way to store data.
You can code to automate.
Transform and clean data.
Store data with millions of rows.
These are some of the benefits of Excel. Let's get started with some beginner-friendly Excel Projects Ideas that are fun and easy to create.
5 Beginner Level Excel Project Ideas
In this section, you get to know about some beginner-level excel project ideas.
1. Grade Calculator
This one is especially for college students. Did you know that you can make a grade calculator with the help of Excel? You can easily make your own Grade calculator in Microsoft Excel. This project will help you keep track of your college grades, and project grades. You can easily calculate your GPA (Grade Point Average) in Excel.
If you make your own Grade calculator, this will help you customize your goals and prioritize different subjects.
2. Daily Planner or To-Do list
Another exciting project idea is a To-Do list tracker or Daily Planner. A to-do list helps you keep track of your long-term and short-term goals.
There are a lot of daily desktop planners/To-Do lists that charge money or sell your private information. One of the best benefits of excel is that you can make a cheaper and way better alternative that completely fits your needs.
What you can include on your to-do list:
Priority scale
Task due date
Progression bar
Interactive user input
You can make graphs that show your task completion rate overall.
3. Daily Budget Tracker
You can make your own budget tracker keep track of your finances. The main reason why we add this project is that it is scalable.
That means that you don't have to use any complex functions. You can make it as functional as you like by using multiple different graphs, future projections, and many more.
The most crucial aspect of a budget tracker is that it helps you to understand the amount of money you spend and how you can manage your money.
The payment you may want to keep track of:
Car maintenance
Insurance
Shopping
Entertainment such as Netflix
Gym Membership
Dining out
Gifts
4. Grocery list or Meal Planner
In Excel, you can make your own meal planner and grocery list. This is a great way to keep your shopping list organized and also helps you understand what you want when you're shopping.
As a result, this will save your time as well as money and stop you from buying unnecessary things whenever you are at the shops.
What you can include in your Grocery list or Meal Planner:
Ingredients category
Lunch, breakfast, and dinner
Weeks and days listed
Price per item
Calories per meal
5. Plant growth Tracker
This project is helpful for those people who love plants and for those who grew plants. A plant growth tracker is used to keep track of the growth of a plant or seed.
If you want to grow a specific plant in your garden and track the growth of that plant, you can use a plant growth tracker to keep an eye on your plant.
In order to make a plant growth tracker, you need the exact fertilizer, water, and how much sunlight the plant wants.
What you want to include in your plant growth tracker:
You can use graphs to track the plant height
Statistical tables to show the days/weeks/months and the growth height of the plant.
Watering, pest, and fertilizer data in your plant growth tracker.
5 Intermediate Level Excel Project Ideas
Below are five of the best intermediate-level Excel project ideas. You can easily apply these ideas to your existing excel project.
1. Study Tracker
This project idea is suitable for intermediate-level Excel users, those who have a basic knowledge of Excel. On the other hand, a study tracker is used to keep track of your study.
By using a study planner or tracker, you can easily track your studies more efficiently and effectively.
You will have a complete analysis from top to bottom of what course you study the most, how often you study in a day, and how much of it is getting worked.
The functions we recommend adding to your study tracker:
Dashboard overview of your entire study in hours and type of subject you're studying.
Duration of time you study per day
Subjects you studied
2. Geo Heat Maps
A Geographic Heat Map, or Geo Heatmap, is an interactive visualization that displays your data points on an actual map.
Geo heat map also Signifies areas of low and high density. Making your own Geographical map is a fun way to visualize longitude and latitude data.
Data you can visualize using geographical heat maps:
Power Plant locations
Millionaires per city
Population density
Income per capita
3. Weather Forecaster
A weather forecaster helps you predict the atmosphere and temperature of a specific location. By making your own weather forecaster, you can understand how meteorology works.
So as a result, you can use this data to plan your day.
Functions to include in your weather forecaster:
You can detect a specific location for fishing with the help of weather patterns (a specific time and temperature for fishing is a must in order to catch some fish.)
A Classifier that states Yes/No to detect if the specific weather pattern suits your needs
You can determine electricity usage demand based on the temperature forecast.
4. Opinion Analyzer
An Opinion analyzer reviews and classifies the emotions behind a text on a negative, neutral, or positive scale.
Basically, it classifies the data on a large dataset by breaking down a piece of text into topics and assigning a score to each category, and through its knowledge, it is able to classify similar texts to determine their sentiment.
This is used for the task where you want to analyze the overall community sentiment quickly.
Data projects where you want to analyze the sentiment:
Twitter data
News aggregate data
Product reviews
Movie reviews
5. Data scraping from Website
Data scraping from a Website is the process of extracting data from a website. There are many reasons why you want to scrape a website's data:
You can either monitor the price of your competitors
Generate leads
Complete market research
News monitoring
Conduct price intelligence
You can use excel to import data from a website. This is a great way to take advantage of the free data available on the web.
Data you may want to scrape from a website:
Housing price data
Comparing prices of products on different websites
Mass search job applications
5 Advanced Level Excel Project Ideas
Below are five of the best advanced Excel project ideas that you can apply to your creativity and to your existing Excel skills. These projects will help you and allow you to advance your Excel skills and provide you with an excellent portfolio.
1. Rent Tracker
For those of you planning to buy a new house or want to start a real estate investment portfolio. Making your own real estate tracker is a great approach to assessing property maintenance costs.
For example, you might want to check the power and water bills to see how much it costs per month and if it is really providing a profit on your investment.
You might want to include the following features in your real estate tracker.
Functions you want to add to your real estate tracker:
Expense tracker per property showing the expense item's cost, date, and category.
The graph shows the rental property income per month for each property.
Tables to authenticate transactions and total volume of rent.
2. Project Executive
You can make so many things in excel because excel is a great tool to manage something. Moreover, you can build a project manager/executive with the help of excel.
A project executive helps you organize and manage a project. When you make your own project manager in excel. As a result, you get complete control of your dashboard.
This gives you a more straightforward approach to managing the progress of a specific project.
We highly recommend including these functions in your project manager:
Dashboard overview of the entire project status:
Weekly Planner
Gantt chart
Task manager
Monthly planner
Status report
Notes
3. Development of a Game
You can create so many role-playing games in excel. You'll need to create various scenarios and characters that will be linked to the game spreadsheet.
You can adjust different scenarios based on the interactions of the players.
Games that you can make using excel:
Tetris
Cellsweeper
Bow and arrow shooter
Snake Game
Tower Defence
2048
Scrabble
4. Numerical Simulator
Yes, you heard it. Believe it or not, you can actually create your own simulator in Excel.
A numerical simulator is basically a series of mathematical functions performed on excel which is used to predict or simulate a real-world system.
Other simulators that individuals have made using excel:
Neural network simulator
Flight simulator
Monte Carlo simulation with bank tellers
Grocery shop simulator
Powerball lottery simulator
Roller Coaster simulator
Rocket Simulator
5. Visually Interactive Dashboard
A Visually interactive dashboard allows you to filter data to find relationships, basically use your data to tell a story, and draw conclusions.
However, if you want to make an interactive dashboard, you can add some appealing visual factors to it and make it more user-friendly.
Data you may want to visualize using an interactive dashboard:
Key performance metrics of user data
Your total net worth, which shows your expenses and income
Revenue of a business
Personal home dashboard
This is the end of the section. In the above section, you get some fun and educational Excel project ideas from beginner to more advanced, or you can say, to expert level.
Well, if you want to use excel to manage your portfolio, then below are some essential tips that you can use.
3 Major Steps: Start Organise Your Excel Portfolio
When you're creating your excel project portfolio, we highly recommend you consider the following tips for practical and well-organized projects.
On the other hand, your portfolio is very crucial because Excel has become the essential tool that employers in the technology industry will look for in a job candidate.
Below are some of the steps that are very useful in organizing your excel portfolio to make your portfolio better than others.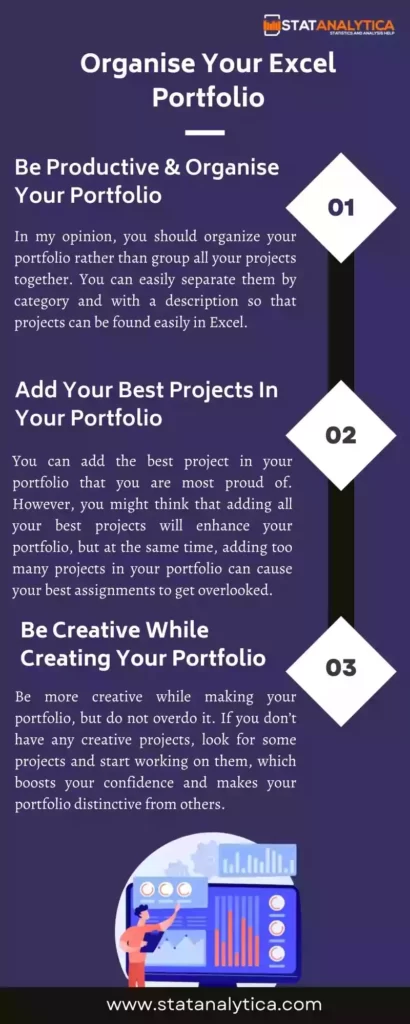 1. Be Productive & Organise Your Portfolio
In my opinion, you should organize your portfolio rather than group all your projects together. You can easily separate them by category and with a description so that projects can be found easily in Excel.
As a result, you get more clients when they see your clear and well-managed portfolio.
2. Add Your Best Projects In Your Portfolio
You can add the best project in your portfolio that you are most proud of. However, you might think that adding all your best projects will enhance your portfolio, but at the same time, adding too many projects in your portfolio can cause your best assignments to get overlooked.
So, to get better results, carefully add your best projects that will reflect your knowledge and skills in Excel.
3. Be Creative While Creating Your Portfolio
Be more creative while making your portfolio, but do not overdo it. If you don't have any creative projects, look for some projects and start working on them, which boosts your confidence and makes your portfolio distinctive from others.
The main goal is to make an excellent first impression on potential clients and employees.
What are the benefits of doing your projects in Excel?
There are many benefits to doing your project in Excel. Listed below are some of the benefits.
It improves your confidence in Excel.
You could potentially increase your salary.
Use Excel to automate and track your finances or tasks.
Sell your spreadsheets online.
Used as a strong tool to demonstrate your excel capabilities.
Conclusion
The best way to find out if something is good or bad is to try it first. You can create a simple project like a timeline, schedule, task list, and budget using multiple sheets within Excel. You can experiment with your projects.
This blog will help you with this and provide you with fun and easy Excel project ideas to get good at Excel.
All this becomes possible only because of Excel. So don't be the one who is not aware of Excel.
Start learning Excel today from the experts.
Also, get the best excel assignment help from the Excel assignment help at nominal charges.
Frequently Asked Questions
Q1. How to Create a Project Plan in Excel
Ans. There are five steps to creating a project plan in excel:
You can add Headers to the Table.
Add Your Project Information.
Add Colours to Convey Project Status at a Glance.
Create the Project Plan Timeline.
Final Touches.
Q2. Excel project ideas for college students?
Ans. Here are 8 fun Excel project ideas for college students:
To-do list.
Attendance tracking project.
Creating a 3D pendulum.
Daily expense tracking.
Creating Sudoku puzzles.
Game development in Excel.
Beautiful artwork creation.
Making web games.