In today's digital age, starting an online business has become more accessible. With the rise of e-commerce platforms, social media, and other digital tools, aspiring entrepreneurs have numerous options for launching and growing their online ventures. However, with so many possibilities, choosing the right business idea that fits your skills, interests, and market demands can be overwhelming. That's where this guide comes in. In this article, you'll discover a detailed list of online business ideas that have proven successful and can serve as inspiration for your next online venture.
Whether you're looking to start a side hustle or pursue a full-time career in online entrepreneurship, this guide provides valuable insights and actionable tips to help you get started and achieve success. So let's dive in and explore the exciting world of online business opportunities.
What is Online Business?
Online business refers to any commercial activity conducted over the internet or other digital channels. It involves using digital technologies to create, promote, and sell products or services to customers.
Online businesses can take many forms, such as e-commerce stores, digital marketplaces, online consulting services, etc. With the rise of the internet and the proliferation of mobile devices, online business has become an increasingly important part of the global economy.
Online businesses offer several advantages over traditional brick-and-mortar businesses, including lower overhead costs, wider reach, and greater flexibility. However, online businesses also face unique challenges, such as the need to build trust and credibility in a digital environment and stay up-to-date with rapidly evolving technologies and consumer trends.
Significance of Online Business
Online business has become increasingly significant in recent years as the world has become more digital and interconnected. The rise of e-commerce has revolutionized the way people buy and sell goods and services, creating new opportunities for entrepreneurs and businesses of all sizes.
Here are some of the key reasons why online business is significant:
1. Global Reach
Online businesses can reach customers around the world, breaking down geographical barriers and expanding their customer base.
2. Reduced Costs
Online businesses often have lower overhead costs compared to traditional brick-and-mortar businesses, such as rent, utilities, and employee salaries.
3. Increased Convenience
Online businesses can offer customers the convenience of shopping from anywhere, anytime, and on any device.
4. Data-Driven Decision-Making
Online businesses have access to a wealth of customer data, which can be analyzed to make informed decisions about marketing, product development, and customer service.
5. Enhanced Customer Experience
Online businesses can provide personalized and interactive experiences for their customers through features such as live chat, recommendations, and social media integration.
Elements of Online Project Ideas
Online businesses typically involve a variety of different elements, including: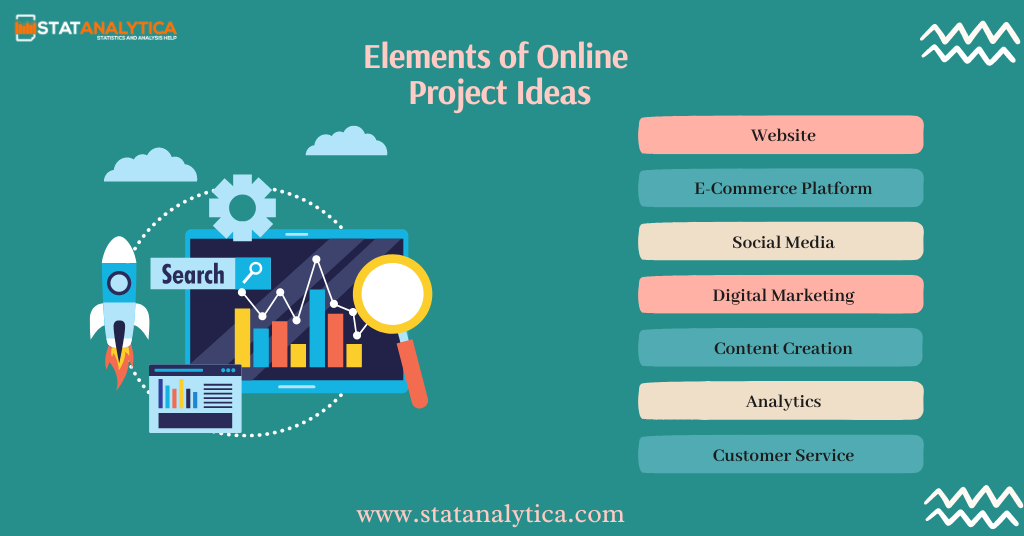 1. Website
A website is the central hub of an online business, providing a platform for customers to interact with the business, purchase products or services, and access information.
2. E-Commerce Platform
An e-commerce platform is a software application that enables businesses to sell products and services online, often including features such as shopping carts, payment processing, and order fulfillment.
3. Social Media
Social media platforms such as Facebook, Twitter, and Instagram can be used to promote an online business and engage with customers.
4. Digital Marketing
Online businesses can use a variety of digital marketing channels, such as email, search engine optimization (SEO), pay-per-click advertising (PPC), and social media advertising, to reach potential customers and drive traffic to their website.
5. Content Creation
Online businesses can create a range of content, including blog posts, videos, podcasts, and infographics, to attract and engage customers and build their brand.
6. Analytics
Analytics tools such as Google Analytics can be used to track website traffic, monitor customer behavior, and gain insights into the performance of an online business.
7. Customer Service
Online businesses need to provide high-quality customer service, including responding promptly to inquiries, resolving issues quickly and effectively, and providing support through various channels such as email, phone, and live chat.They can also use customer portal solutions to speed up and enhance their customer service.
These elements are just some of the key components that make up an online business. The specific mix of elements will depend on the nature of the business, its target audience, and its goals.
Top 30+ Trending Online Business Ideas That You Must Know
Here are 30+ trending online business ideas with brief explanations:
1. E-Commerce Store
Start an online store selling a range of products or a specific niche. You can leverage platforms like Shopify or WooCommerce to build and launch your store.
2. Dropshipping
Start an e-commerce business without holding inventory by partnering with product fulfillment suppliers. You can use platforms like AliExpress, Oberlo, or Spocket to source and ship products.
3. Print-On-Demand
Create and sell custom-designed products such as t-shirts, mugs, and phone cases, without holding inventory. Platforms like Printful or Teespring can help you create and fulfill your products.
4. Affiliate Marketing
Promote other people's products and earn a commission on each sale made through your affiliate link. You can partner with affiliate networks like Amazon Associates or ClickBank to find products to promote.
5. Online Course Creator
Create and sell online courses on various topics such as business, marketing, or personal development. Platforms like Teachable or Thinkific can help you create and host your courses.
6. Content Creator
Create content such as videos, podcasts, or blog posts and monetize it through advertising, sponsorships, or selling products. Platforms like YouTube or Patreon can help you build an audience and earn revenue.
7. Social Nedia Management
Manage social media accounts for businesses and individuals, create and schedule TikTok posts and other social media content, and engage with followers. You can use platforms like Hootsuite or Buffer to manage multiple accounts.
8. Virtual Assistant
Provide administrative support to businesses or individuals, such as managing emails, scheduling appointments, or handling customer support. Platforms like Upwork or Fiverr can help you find clients.
9. Online Coaching
Provide one-on-one coaching on various topics such as fitness, career, or relationships. Platforms like Zoom or Skype can help you deliver your coaching sessions.
10. Online Event Planning
Plan and manage virtual events such as webinars, workshops, or conferences. Platforms like Zoom or Hopin can help you host your events.
11. App Development
Develop and sell mobile or web-based applications on various topics such as productivity or entertainment. Platforms like Appy Pie or Bubble can help you create your app.
12. Software As A Service (Saas)
Develop and sell software solutions for businesses or individuals, such as project management or accounting software. Platforms like SaaS Maker or Bubble can help you build and launch your SaaS product.
13. Online Marketplace
Create a platform that connects buyers and sellers of products or services in a specific niche, such as handcrafted goods or freelance services. Platforms like Etsy or Fiverr can inspire your project.
14. Niche Blogging
Create a blog focused on a specific niche or topic, such as travel, food, or personal finance, and monetize it through advertising, sponsorships, or affiliate marketing.
15. Podcasting
Create and host a podcast on a specific topic and monetize it through sponsorships or advertising. Platforms like Anchor or Buzzsprout can help you record and publish your podcast.
16. Online Language School
Teach a language or offer language learning resources online through a membership-based model. Platforms like Duolingo or Rosetta Stone can inspire your project.
17. Influencer Marketing
Partner with brands and promote their products to your social media followers, earning a commission on each sale through your unique affiliate link.
18. Online Bookkeeping And Accounting
Bookkeeping and accounting services to small businesses online, using cloud-based software solutions. Platforms like QuickBooks or Xero can help you manage your clients.
19. Online Personal Shopping
Provide personalized shopping services to individuals, helping them find clothing, accessories, or home goods that fit their style and budget. Platforms like Stitch Fix or Trunk Club can inspire your business.
20. Online Travel Agency
Provide travel planning and booking services for individuals or groups specializing in a niche such as luxury or adventure travel. Platforms like Expedia or Airbnb can inspire your business.
21. Online Therapy
Video conferencing software provides counseling and therapy services to individuals or couples. Platforms like BetterHelp or Talkspace can inspire your project.
22. Virtual Interior Design
Provide personalized interior design services to individuals, helping them create their dream homes. Platforms like Modsy or Havenly can inspire your business.
23. Online Tutoring
Provide one-on-one tutoring services in various subjects, specializing in a specific age group or topic. Platforms like Chegg or TutorMe can inspire your project.
24. Online Legal Services
Offer legal services to individuals or businesses specializing in a specific niche, such as small business or intellectual property law. Platforms like LegalZoom or Rocket Lawyer can inspire your business.
25. Virtual Event Photography
Offer event photography services for virtual events such as webinars or conferences, using screen capture and video editing software. Platforms like Zoom or OBS Studio can inspire your project.
26. Online Fashion Rental
Offer clothing and accessory rental services to individuals, providing them with the latest fashion trends without the commitment of purchasing. Platforms like Rent the Runway or Nuuly can inspire your business.
27. Virtual Fitness Classes
Offer online fitness classes and personal training sessions using video conferencing software. Platforms like Peloton or Beachbody On Demand can inspire your project.
26. Online Fitness Coaching
Offer personalized fitness programs, workout routines, and nutritional guidance through online platforms or video conferencing.
27. Digital Marketing Agency
Provide digital marketing services, including social media management,content creation, and online advertising, and offer the expertise of SEO Expert for to help businesses expand and optimise their online presence
28. Subscription Box Service
Curate and deliver subscription boxes filled with niche products or customized items based on customers' preferences, such as beauty products, snacks, or books.
29. Virtual Event Planning
Assist individuals and businesses in organizing and hosting virtual events, conferences, workshops, or webinars, handling logistics, technical aspects, and participant engagement.
30. Remote Job Board
Build a website or platform that connects companies offering remote job opportunities with job seekers seeking remote work options.
31. Digital Product Creation
Design and sell digital products such as e-books, templates, graphics, or software tools that provide value to a specific target audience.
32. Language Instruction Platform
Create an online platform where users can learn languages through interactive lessons, virtual classrooms, and language exchange opportunities.
33. Sustainable Products E-commerce Store
Establish an online store specializing in eco-friendly and sustainable products, such as reusable household items, organic clothing, or zero-waste essentials.
These are just a few examples of the many online business ideas that you could pursue. The key is to find a niche you are passionate about with market demand. With the right idea and execution, you can turn your online business into a profitable venture. On the other hand, here are some of the best business project ideas that you can check.
How to Lead your Online Business to Success?
Leading an online business toward success requires strategic planning, effective execution, and continuous improvement. Here are some tips that can help you steer your online business toward success:
Develop a clear vision and mission statement: Define your business goals, values, and what sets you apart from your competitors.
Conduct market research: Identify your target audience, their needs, and preferences to create products or services that meet them.
Create a solid business plan: Develop a comprehensive plan that outlines your marketing strategy, financial projections, and operational plan.
Build a strong brand: Establish a unique brand identity that resonates with your target audience and represents your business values.
Focus on customer experience: Provide excellent customer service, listen to their feedback, and continuously improve your products or services to meet their needs.
Leverage technology: Utilize technology tools and HR platforms to streamline business operations, manage finances, and reach your target audience.
Monitor your finances: Keep track of your expenses, revenue, and cash flow to ensure your business stays profitable.
Stay agile: Be flexible and willing to adapt to changes in the market, industry trends, and customer preferences.
Invest in continuous learning and development: Stay updated with the latest industry trends, innovations, and best practices to stay ahead of the competition.
By implementing these tips, you can lead your online business toward success and achieve your business goals. It is important to remember that success does not come overnight; it requires hard work, persistence, and continuous improvement.
How to Find Online Business Ideas?
If you're looking for online project ideas, here are some tips to help you find inspiration:
Identify your interests and skills: Consider your interests and skills to identify topics and niches you are passionate about and have expertise in. This can help you generate ideas for projects that are both enjoyable and feasible for you.
Research trending topics: Look for trending topics in your niche by monitoring social media, news sites, and other online sources. This can help you identify gaps or opportunities you can fill with your project.
Check out online marketplaces: Online marketplaces such as Amazon, Etsy, and eBay can inspire products that are popular or in demand in your niche.
Follow influencers and competitors: Follow influencers and competitors in your niche to get a sense of what projects they are working on and how they are engaging with their audiences. This can help you generate ideas and identify areas where you can differentiate yourself.
Use online tools: Use online tools such as Google Trends, Buzzsumo, and Quora to research topics and generate ideas for projects that are popular and relevant to your audience.
Brainstorm with others: Collaborate with others in your niche, such as other entrepreneurs or bloggers, to generate ideas and get feedback on your project ideas.
Overall, finding online project ideas requires a mix of creativity, research, and analysis. By leveraging online tools and resources and staying up-to-date with trends and developments in your niche, you can identify project ideas that are both interesting and profitable.
Role of Online Business Ideas That You Must Know
Online business ideas play a crucial role in today's economy, where the internet has become essential to people's daily lives. Online businesses allow entrepreneurs to reach a broader audience, reduce overhead costs, and create a flexible and scalable business model. They also offer consumers the convenience of shopping from the comfort of their homes, accessing a wider range of products and services, and the ability to research and compare prices before making a purchase.
Online business ideas can also be a way for individuals to turn their passion or hobby into a profitable venture. With the right idea and execution, online businesses can allow people to create the lifestyle they desire, working from anywhere in the world and setting their own hours. They also offer a low barrier to entry, with minimal start-up costs and the ability to test and refine ideas quickly.
Furthermore, online business ideas can positively impact society and the environment. For example, businesses that offer sustainable and eco-friendly products or services can help reduce the carbon footprint and promote a more sustainable future. Online businesses that provide education or training can empower individuals and communities to improve their lives and create positive change.
Conclusion
In conclusion, the internet has opened up endless possibilities for entrepreneurs to create successful and innovative businesses. The trending online business ideas presented above are just the tip of the iceberg. As the digital landscape continues to evolve, new opportunities arise.
The key to success is identifying a niche market, researching your competition, and creating a business plan focusing on delivering value to your customers. With the right idea, execution, and a willingness to adapt to changes, an online business can become a profitable venture that can change your life.
So, don't wait, explore these trending online business ideas, find the one that resonates with you, and take the first step towards creating your online business today.
FAQs
Q1. What are some easy online business ideas for beginners?
a) Social media management
b) Freelance writing
c) Online tutoring
d) Handmade products
e) Virtual assistance
Q2. How much money do I need to start an online business?
Costs depend on various factors but such as website/domain, e-commerce platform fees, marketing/advertising, product/inventory costs, and professional services.
Q3. How can I find the right online business idea for me?
a) Reflect on your interests and skills
b) Conduct market research
c) Analyze competition
d) Test and validate your idea
e) Be flexible and adaptable