Sometimes, it is necessary that you must be motivated enough to study. But because of the hectic schedule and complications of the study, students feel overwhelmed and question yourself like:
"Do these readings help me?"… "Am I writing the things relevant and interesting?"… "Am I enough to do the things on my own?"… "What if I am unable to do it?"…
Therefore, it becomes necessary that students know how to motivate yourself to do study.
Below, we have mentioned some useful tips and tricks about how to motivate yourself to study.
Are You Confused With the Term "Motivation"?
Motivation is a way or a reason for acting in a particular way. Behaving in a particular way, it means that if you feel like doing something. And you want to do that thing in your life, but you cannot do it because of any reason or anything.
Because you are not feeling like doing it, or something must be stopping you. Or you do not want to resist, but still, you are resisting.
So that you are unable to do that particular thing. At that point in time, you need some motivation to do that particular thing. And that thing which can make you do what you want is motivation.
Is the thing which is motivating you to do what you have always wanted to do?
So, Hopefully, now you know what actually motivation is. And now you must be thinking, why do you need to motivate yourself?
How to Motivate Yourself To Get Things Done? Backed By Science
Now, as you already know how important it is to stay motivated. And why do you need it to get going with anything you are doing?
Now it's time for you to know how you should motivate yourself. And what are the ways for you to motivate yourself? Just read the blog further, and you will know various ways of motivating yourself.
So the way of motivating yourself is as follows:-
1. Just Get Started and Let the Motivation Comes to You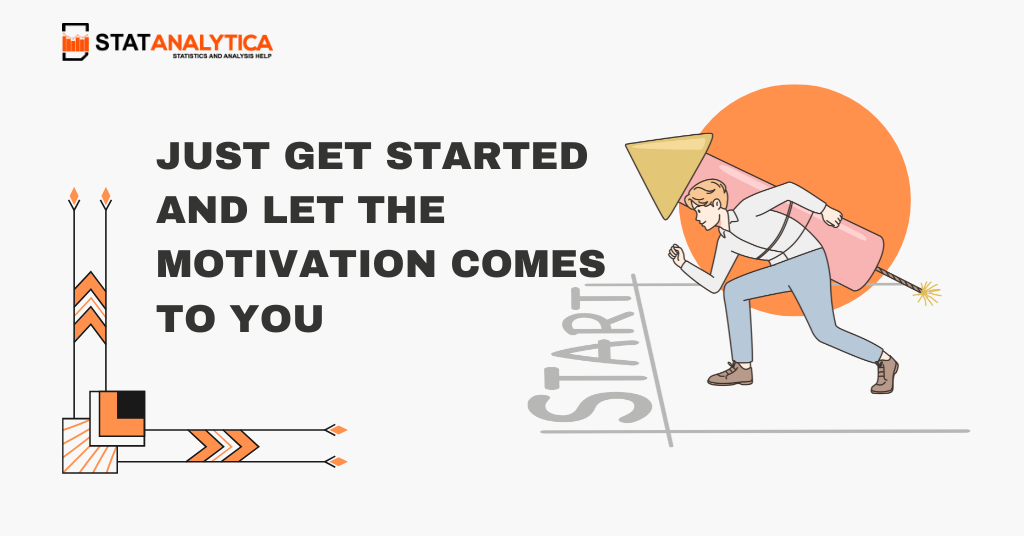 So, you must be thinking that but the kind of solution is this you should just start and motivation will come to you.
This is the best way of motivating yourself. Just give a little bit of push, and you will see that you are doing good in whatever you are doing.
Just give it a little bit of push start, and you will see the difference and the best thing is that.
After you give it a push start, you will feel the difference that was not that difficult for you to get started. And you will be able to do your work very efficiently and in a very great manner.
2. Always Start Small
Suppose you have a big project going on with you if you have to work on a huge project and you cannot start it.
And you are afraid of how you are going to complete that huge object. But what you should do is divide it into small parts by dividing it into small parts.
And starting doing it you will feel better than you have already completed a few parts of that project. That will automatically motivate you to move further and further to get it done as soon as possible.
So always start small and get to your destination or whatsoever you were looking for or aiming for.
3. Take Small Steps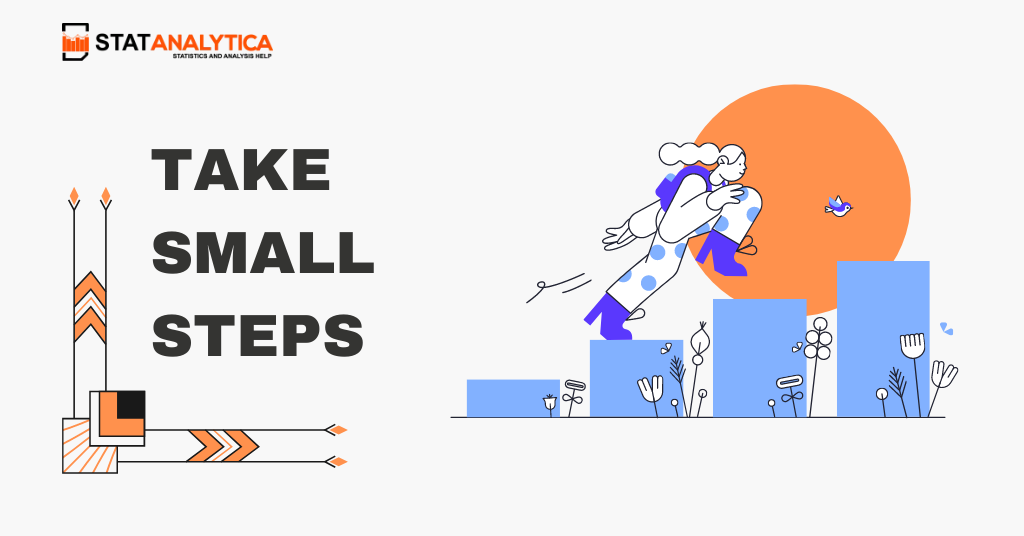 You should always take small steps because breaking down your bigger work in small steps will always help you get it done without getting procrastinated; yeah, this step is like the previous one.
But basically, it's a bit different. So taking small steps means you should always start small, not just be greedy, and directly aim for huge achievements in a small amount of time. Because that takes a lot of effort, and the probability of getting it done is minimal.
So always take small steps, and those small steps will surely lead you to your aim with the best outcome possible.
4. Reduce Your Distractions
Your distractions play a huge part in your life to not getting your work done on time because whenever you are working, you might get distracted by your distraction.
It may be because of your cell phone your laptop, or anything that always takes care of your distraction. Or, if you can't stay clear of it, you should at least reduce your distraction and stay focused while working.
But you can do it if you can put your cell phone aside or your laptop beside you.
Whenever you are working, or you can decide sometime after. That you will be checking your phone out will help you reduce your distraction and surely help you get the best outcome possible out of your work.
5. Always Keep Track of Your Work
You should always keep track of your work if you always keep track of things you were doing in the previous week. You will do it in the ongoing week now; this will help you in a very different manner.
Keeping track of what you did last week will help you make it better in the upcoming weeks.
If you have kept track of your work in the previous weeks, you know what you have done, and you can make it better in many ways; you know how you are working, you know.
But you have done you know your capability; you know your capacity. And you can and get all these things done in a better way by keeping track of it. Or by trying to make it better than the previous week.
So you should always keep track of the things which you have done in previous weeks.
Not just weeks, you can keep track of things on a weekly or monthly, or yearly basis.
By this, you will know what you should do or what you should not do in order to get things to work for you in the best way possible.
6. Get Motivated By the People Around You
Now everyone knows someone who is a better person than themselves in their eyes.
Everyone knows this person around them. We know that you always admire that person. And you want to get your things done like he is managing things in his or her life.
You know that person, and you want to be like him/her or want to be the better version of yourself by getting some of their traits.
And that is what you should do. You should now just copy them and try to be like them, but rather than that, you should get yourself motivated by them.
And you should try to get your things done in the best way possible that you could do.
So you should always get motivated by the people around you, and you should do your best by learning from them.
Related:
How to Motivate Yourself to Do Schoolwork?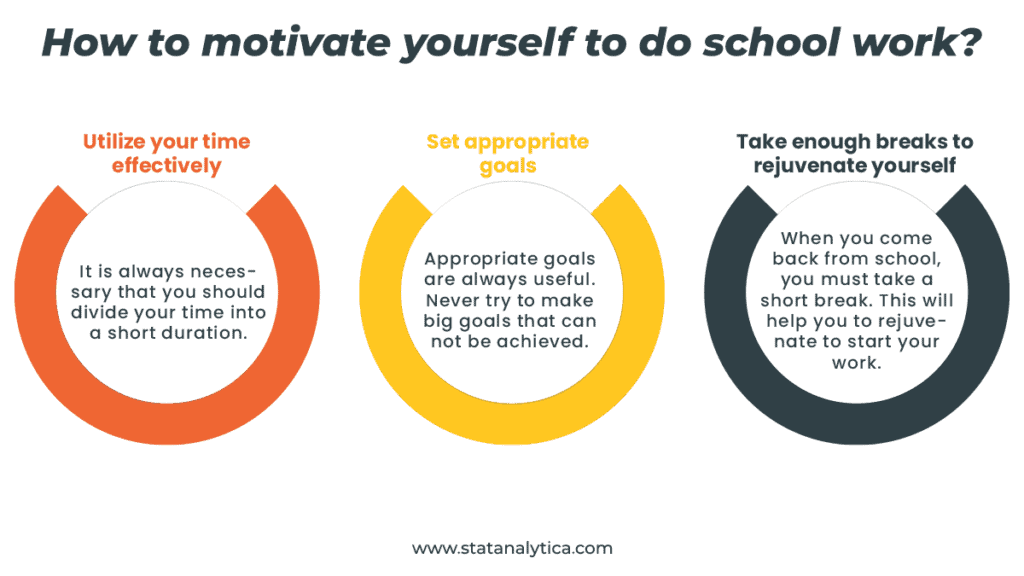 To complete their school work, students need to stay motivated. After schooling, several students get exhausted and unable to write the current answers to their schoolwork questions.
Therefore, they can follow the below-mentioned tips and tricks to complete their work on time
1. Utilize Your Time Effectively
It is always necessary that you should divide your time into a short duration.
And set a limit of work that you have to complete within the time duration.
Never try to complete the maximum work in a short period of time as it reduces effectiveness and leads to low grades.
2. Set Appropriate Goals
Appropriate goals are always useful. Never try to make big goals that can not be achieved.
If the goals are not achievable, then there is the possibility that you get demotivated towards the school work.
Therefore, it is better to complete single school work at a particular time. This helps you to stay motivated, and you are able to complete the school work timely.
3. Take Enough Breaks to Rejuvenate Yourself
When you come back from school, you must take a short break. This will help you to rejuvenate to start your work.
Try to make a schedule and proceed accordingly. Once the students get rejuvenated, students are able to perform better.
Moreover, you can reward yourself whenever you do complete your school work. This will encourage you to do more.
How to Motivate Yourself to Do an Assignment?
Writing assignments is always a necessary part of academics. It is always assigned by the teachers to check the knowledge of the students.
But some students are unable to write quality solutions to their assignment queries. Below, we have shared some of tips regarding how to motivate yourself to do an assignment.
1. To Motivate Yourself, Think About The Lower Grades
Get confused!! Let me make this point. When a person thinks about scoring low grades and the things that happen after scoring the grades, it can help them to work hard.
As per a survey report, it is noticed that 43% of students work harder after analyzing the circumstances after scoring low grades.
Therefore, push yourself enough to do your assignments; otherwise, you will lead to scoring bad grades.
2. Try To Modify Your Assignment Writing Time
It has been noticed that if you write things at night, then you get overwhelmed easily. Therefore, the daytime is the best time to complete your assignments.
Moreover, plan things and follow a particular writing pattern. It helps you to work in a pattern.
3. Make a List of Resources and Save Time
If you have all the resources to write the things, then you stay motivated. It is known to all that students get frustrated if they are not able to find out the right thing at the right time.
This kind of situation leads to demotivation, and students end up with incomplete assignments.
Moreover, students can save their precious time by arranging things. They can utilize this time to do other work or to do their studies.
Conclusion
Now you know what you should do in order to get success and in order to keep yourselves going and to get yourself motivated in the best way possible. So, now you know and you should just follow these steps and get your things done in the best way possible.
And share this with your friends and help them know "How to motivate yourself." Get the best statistics help from our experts to always get motivated.
FAQs
Q1. How do you motivate students to do homework?
Here are major points you know about how to motivate yourself to do homework:
1. Regularly check homework. 
2. Give immediate feedback. 
3. Compliment students for both effort and performance.
4. Use a point system to motivate students.
5. Assign group work to the students to make them understand things from each other.
6. Assign a visual to manage assignments to improve the creativity of the work.
7. Provide help when required.
Q2. Can you force yourself to study?
You must understand the reason why there is a need to study. Don't force yourself; instead, you must INSPIRE yourself. Make a plan, set the desired goals, and find out the resource to achieve those goals. Every time you are not ready to study, think of your aim, and your Passions, and start studying.
Q3. What do you do when you have no motivation to do schoolwork?
Five ways to get some kind of motivation:
1. Recall why you have to study (like for achieving a dream job).
2. Set minor daily aims.
3. Attach your work to something that is fun and interesting for you.
4. Think of a reward that you want to get once you complete your school work.
5. Take a breath, re-think, re-plan, and just do it.