MBA Homework Help
The MBA is the short form of Masters in Business Administration. The MBA courses are offered in different programs, such as part-time MBA, full-time MBA, accelerated MBA program, and executive MBA courses. All programs of an MBA can be utilized for directing the scientific techniques to suitable management techniques. Besides this, the MBA enables the learners to several career possibilities. The MBA program consists of wide-ranging marketing programs that include finance, human resources, accounts, operations management, marketing, logistics management, engineering management, category management, business analysis, and strategy, and much more. Further, the MBA is a professional course in which the accreditation company assures quality knowledge strategies.
Our professionals can provide you the best quality content on an MBA homework helper. Our client support executives are available 24*7, and our experts can provide data within the supplied time.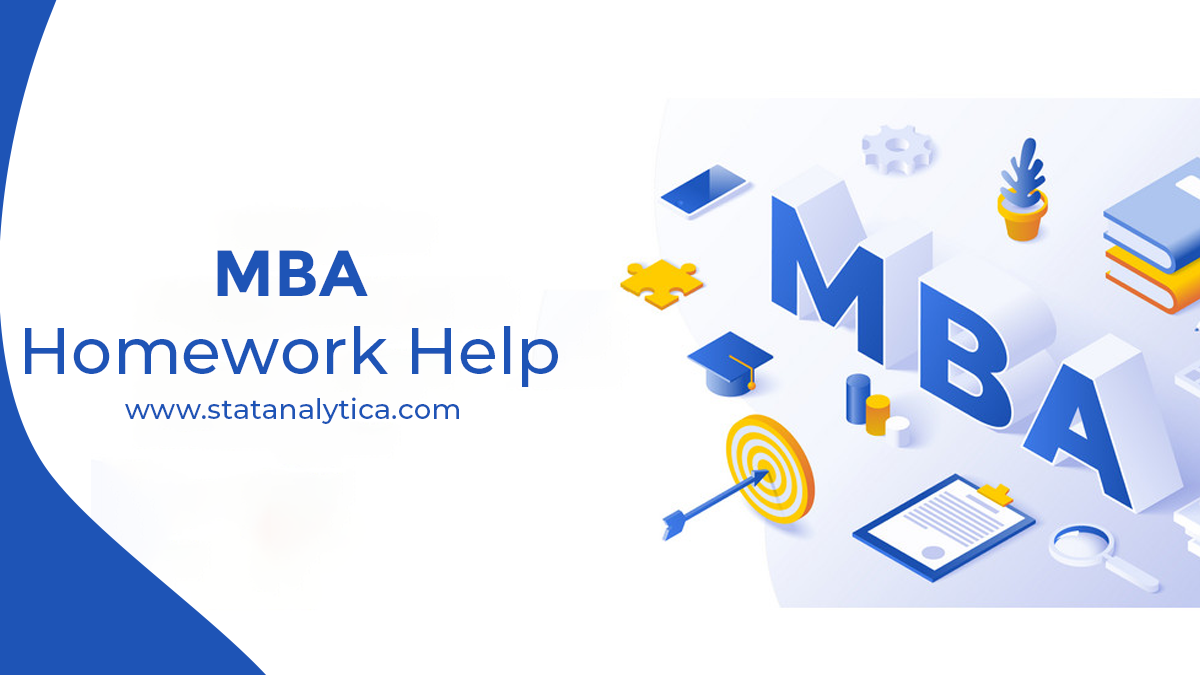 Benefits of MBA courses for students:
Improve problem-solving capabilities and management skills to motivate themselves and manage working groups efficiently.
Increase capabilities to think to incorporate strategic and strategic actions for improvement.
Enhance each student's ability to face a difficult work situation and accommodate on improving the global market environment.
Improve knowledge and competency in particularized industry fields like business, marketing finance, accounting, and management.
Students can improve their logical skills and assess business opportunities and growth by using quantitative and qualitative measuring devices.
Make the pupils socially accountable, develop their moral behavior.
Enhance their verbal language capabilities and writing methods.
Make the students more initiative, independent, and curious about their work.
Issues faced by student while writing an MBA homework :
Here are a few reasons why MBA homework helper requires by the students:
Lack of problem-solving skills:
Sometimes students don't have enough knowledge of MBA homework writings, and they also have a lack of skills in problem-solving. They don't know how to solve MBA homework issues quickly. So they look for the best MBA homework help.
Lack of English Ability:
As we all know, almost every homework or assignment assigned by the teacher is in english. The language problem is one of the most basic issues faced by foreign students. This problem is mainly faced by those students whose first language is not english. Countries like China, Middle Eastern countries, and much more. So one can need an MBA homework helper for their writings.
Short Deadlines:
When deadlines are near, students are not left with sufficient time to complete their homework. Missing a deadline can cost them bad grades in their final semester. You can complete homework during those tight deadlines, but homework like management, math, and science need time to solve. That is why one can avail of an MBA homework help to get their writings within slotted time.
Several branches of MBA that are covered in our MBA homework help:
MBA tourism management:
It is a portion of MBA hospitality management specifically created to give travel and tour management programs. An MBA plan guide includes a diversity of topics under this.
MBA Hospitality Management:
It is a post-graduation MBA course that includes the knowledge of management positions in the hospitality industry in hospitality fields such as resorts, hotels, holiday resorts, and much more.
MBA Accounts and Finance:
It is a program concentrating on accounts and finance to provide learners in the marketing field and high-level studies accounting and finance for an organization's economic position.
MBA HRM (Human Resource Management):
In this, individuals are employed as HR (human resource) supervisors in all the industry and different groups who study for workers coordinating with the organization's expert level, and HR reaches them respectively.
MBA Marketing:
It provides a focused subject of marketing, including marketing administration that includes the subject of customer management and goods they are expected to purchase.
MBA Banking:
It includes center topics of business such as accounting, economics, marketing, rural finance, strategic planning, and much more.
MBA Supply Chain Management:
MBA homework helper offers a 360 view of a program. In this management subject, one needs to concentrate on delivery, supply, pricing, financial strategies, and communication with suppliers.
Why should you select us to get your MBA homework help done?
You may get misguided when selecting the best online homework service, and, as a result, students will select the wrong site for their MBA homework helper and other subjects. It continues to be an issue as students allocate less time to examine the workings of the website when choosing the website without searching for feedback on the site.
Statanalytica.com has a reputation of all its own among learners. We provided the best homework help from the best experts. We have all the resources available since, in various fields, we have hired the best-skilled writers who help you in your homework writing.
If you use our MBA homework support service, such as MBA homework help, your paper is produced predominantly by professionals. Associated with all these, we also provide all the services with the best features to build user-friendly services and help you completely relax:
Minimal prices
24*7 accessibility
Secure payment methods
Plagiarism-free content
A simple procedure of order placing
High-quality homework
Immense revisions
Submit homework before the deadline
No hidden charges
These types of fantastic features for your tasks are available at no extra charge. You can easily avail of all of it. MBA homework help online can be easily accessed if you need them. So, if you want the best grade in your semester, do not hesitate and hurry to avail of our homework assistance services.